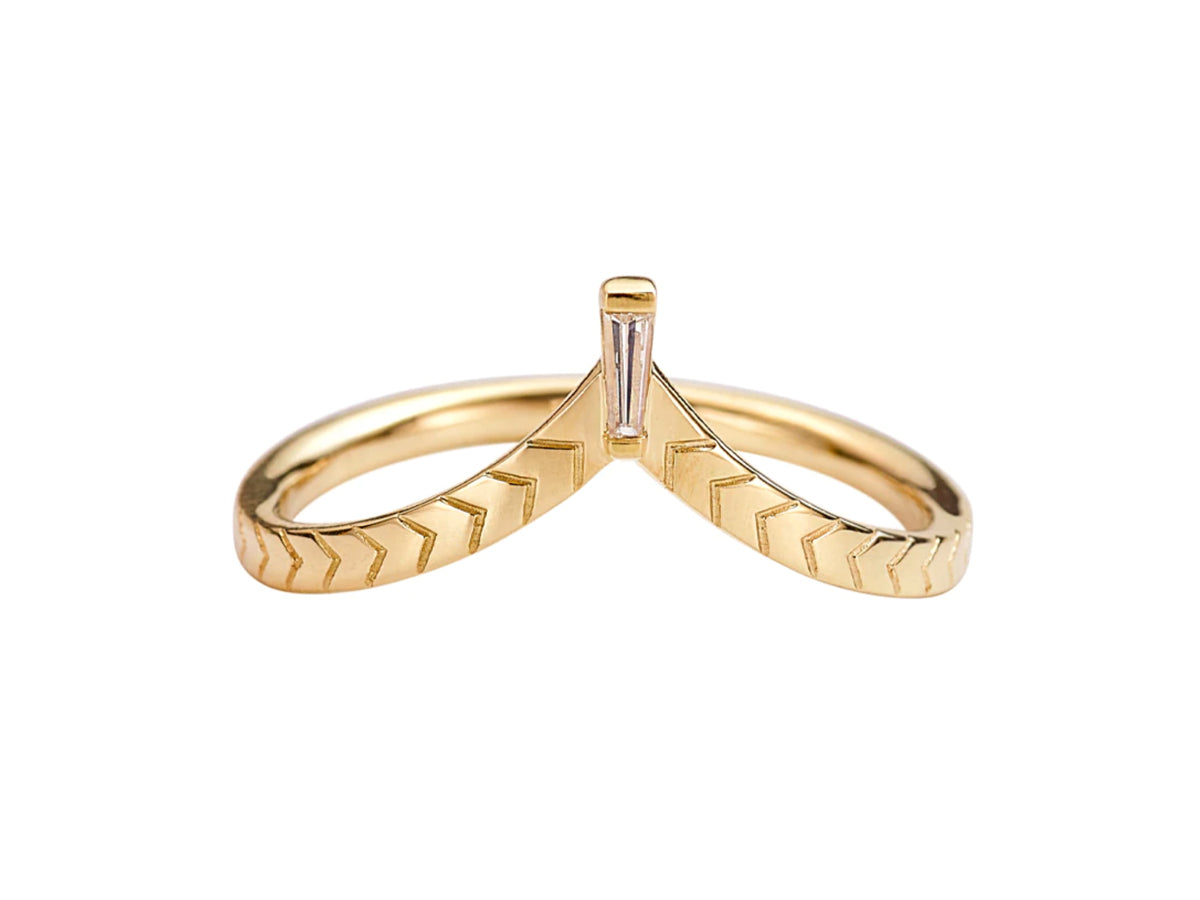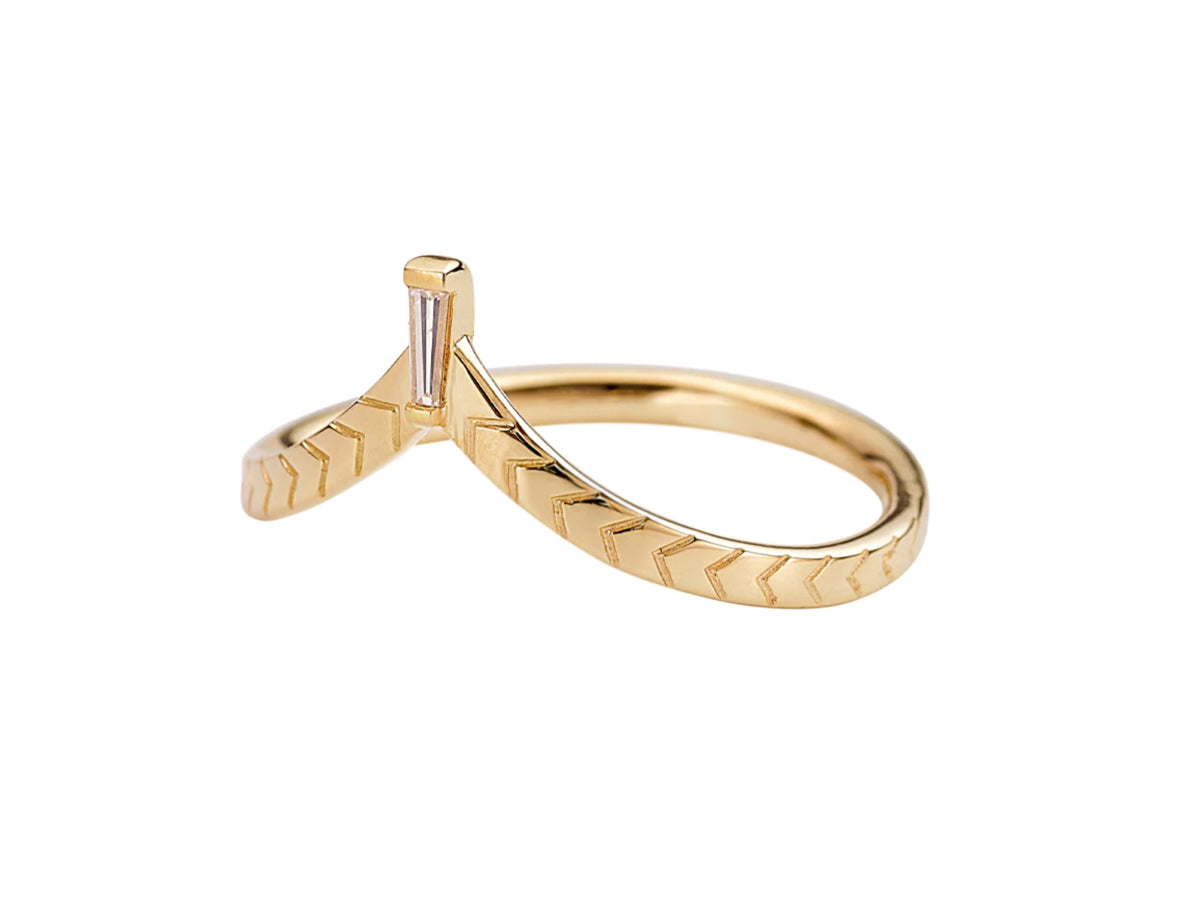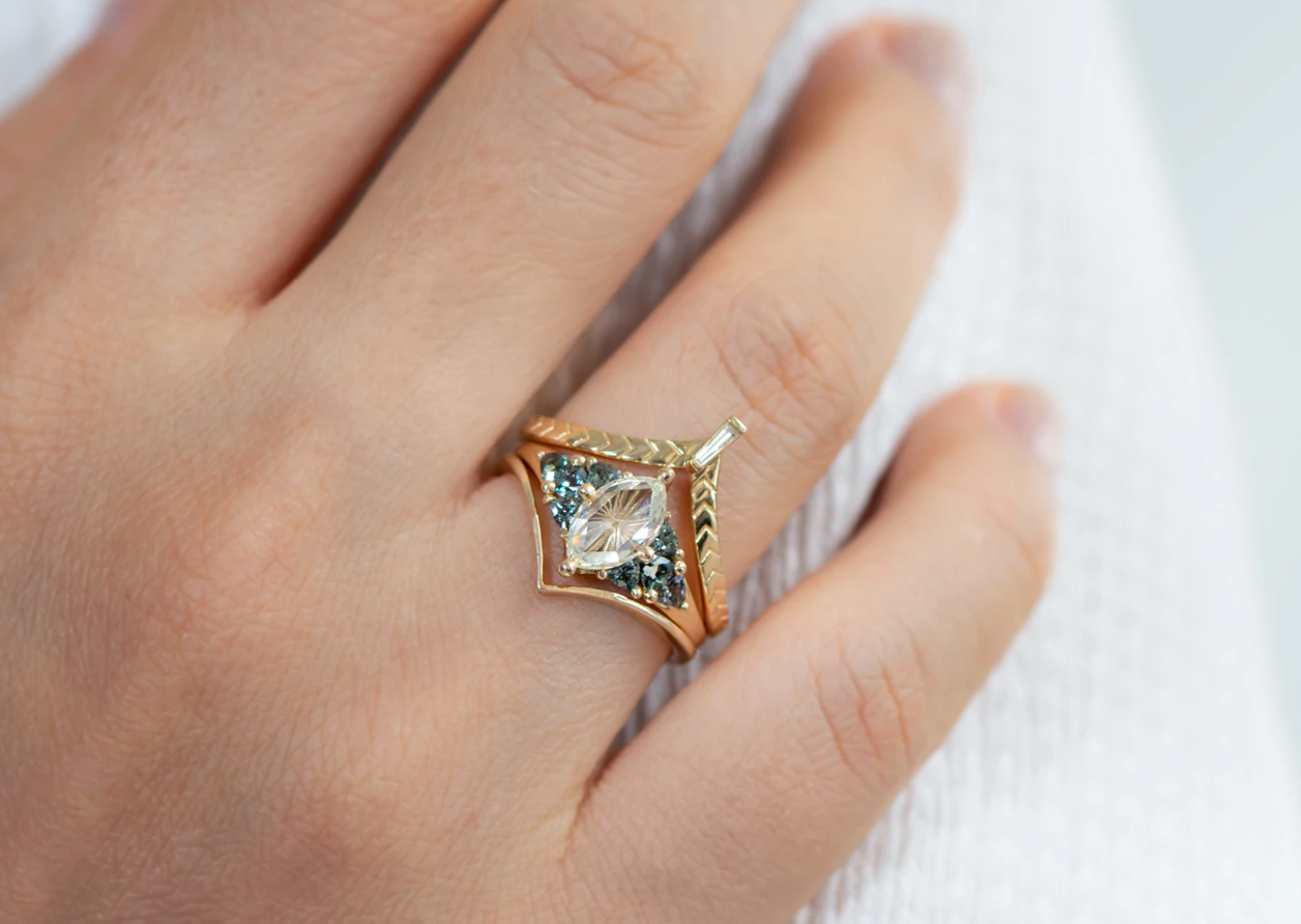 Tapered Diamond Chevron Wedding Band
SKU: AT38
The Tapered Diamond Chevron Wedding Band with a chevron detail is a beautiful and elegant piece of jewelry, expertly handcrafted by Artëmer. Made from high-quality 18-karat yellow gold, this ring is a stunning addition to any jewelry collection.
One of the most striking features of this ring is the chevron detail that runs through its center. This chevron design adds a modern touch to the classic tapered baguette style, making it perfect for anyone who loves contemporary jewelry. The ring is also set with a sparkling conflict-free diamond that adds a touch of glamour and sophistication.
The diamond used in this ring has a carat weight of 0.04 and a color grade of G, which means it has a near-colorless appearance. The diamond's clarity grade is VS, which indicates that it has only minor inclusions that are difficult to see under 10x magnification. This high level of clarity ensures that the diamond sparkles brightly and catches the light beautifully.
The ring is available in size 6, but it can be resized by a professional jeweler to fit any finger size. When purchasing this ring, you can be sure that you are investing in a high-quality piece of jewelry that is both timeless and contemporary.
Overall, the Tapered Diamond Chevron Wedding Band is a stunning piece of jewelry that is perfect for anyone looking for a unique and elegant addition to their collection. With its modern chevron detail and high-quality diamond, this ring is sure to turn heads and capture hearts.
Handcrafted by Artëmer.
Diamond Carat Weight: 0.04 (conflict free)
Diamonds Color: G
Diamonds Clarity: VS
Size: 6

Tapered Diamond Chevron Wedding Band
One-of-a-kind
Beautiful Designs
We work closely with our clients to ensure their vision is executed with extreme precision and attention to detail.
Find your
Forever Piece
We work with everything from diamonds to semi-precious stones, helping to create beautiful, lasting memories in wearable form.