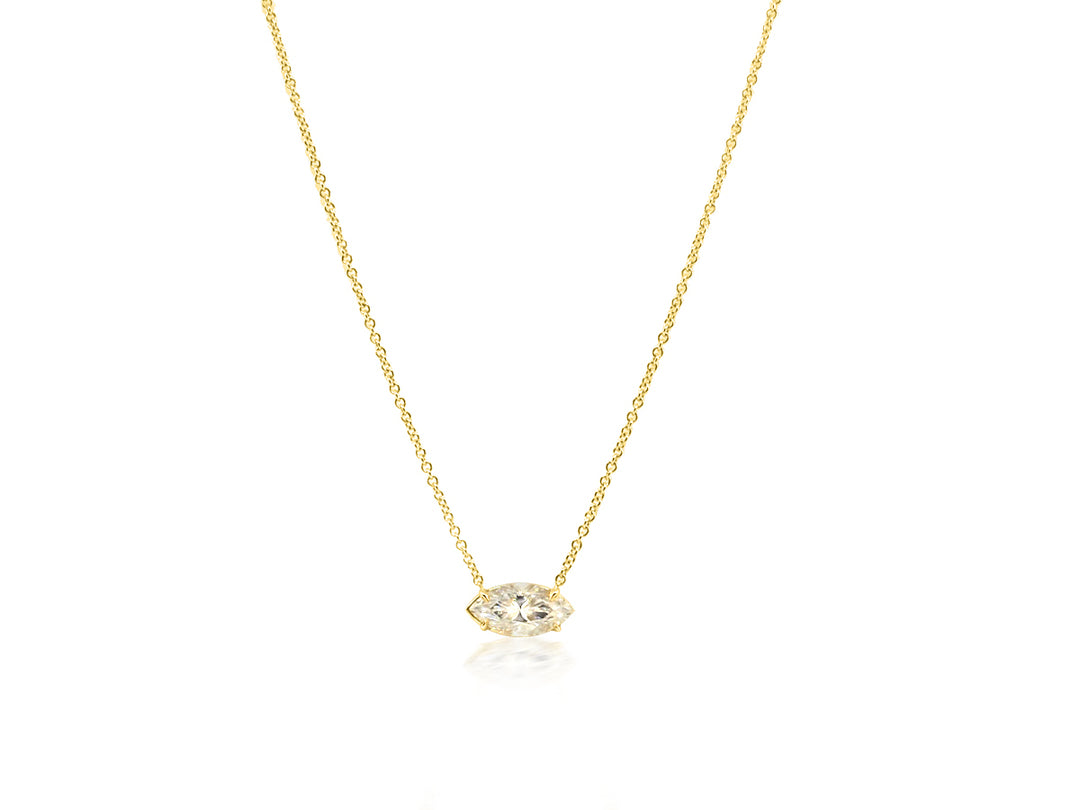 Marquise Cut Moissanite Necklace
SKU: E1760
Introducing the stunning Marquise Cut Moissanite Necklace, expertly crafted by Trabert Goldsmiths. This necklace is the epitome of elegance and sophistication, featuring a breathtaking 1.50 carat Marquise cut Moissanite set in 18 karat yellow gold.
The Marquise cut is a classic and timeless cut that accentuates the natural beauty of the Moissanite gemstone. The four-prong setting provides a secure hold on the stone, while allowing maximum light to enter and enhance the sparkle of the Moissanite. The delicate design of the 4-prong setting adds a touch of femininity and grace to the necklace.
Crafted from the highest quality 18 karat yellow gold, the necklace is designed to last a lifetime. The yellow gold complements the brilliance of the Moissanite, creating a stunning contrast that will catch the eye of anyone in the room. The necklace is held in place by a 16-inch chain, making it the perfect length for any occasion.
Moissanite is a rare and beautiful gemstone that has become increasingly popular in recent years due to its incredible brilliance and durability. It is an ethical and sustainable alternative to diamonds, making it an ideal choice for those who are conscious of the environmental impact of their jewelry choices.
The Marquise Cut Moissanite Necklace is the perfect accessory for any outfit, whether it's a formal evening gown or a casual daytime look. It is a timeless piece that will never go out of style, making it the perfect addition to any jewelry collection.
Each necklace is expertly crafted by Trabert Goldsmiths, a family-owned business that has been creating beautiful jewelry for over 40 years. With their attention to detail and commitment to quality, you can be sure that your Marquise Cut Moissanite Necklace will be a stunning and long-lasting addition to your collection.
Moissanite Carat Weight: 1.50
Chain Length: 16 inches
18 karat yellow gold
Marquise Cut Moissanite Necklace
One-of-a-kind
Beautiful Designs
We work closely with our clients to ensure their vision is executed with extreme precision and attention to detail.
Find your
Forever Piece
We work with everything from diamonds to semi-precious stones, helping to create beautiful, lasting memories in wearable form.