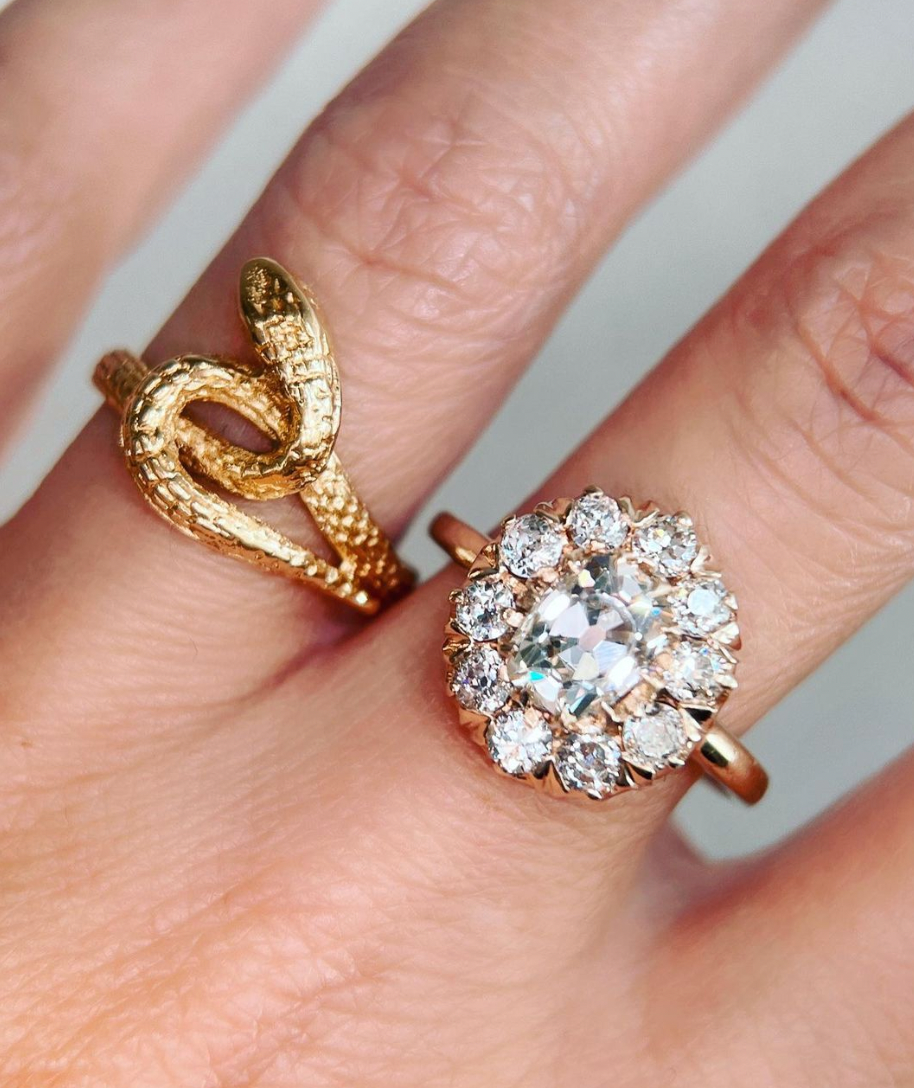 Vintage Diamond Cluster Ring
SKU: E3279
Introducing our stunning Vintage Victorian diamond cluster ring, an exceptional piece of fine jewelry that is sure to catch the eye of any jewelry enthusiast. This exquisite ring features a center Old Mine Cut cushion diamond, weighing in at an impressive 1.33 carats. The diamond is set in a luxurious 18 karat gold band, adding to the ring's elegance and sophistication.
The center diamond is of exceptional quality, with an approximate color grade of K and a clarity grade of VS2, making it a rare and valuable find. The K color grade, which is on the lower end of the diamond color scale, gives the diamond a warm and inviting appearance that is complemented by the yellow gold band. The VS2 clarity grade indicates that the diamond has minor inclusions that are not visible to the naked eye, making it a visually stunning diamond.
In addition to the center diamond, this vintage ring also features approximately 1.00 carats of surrounding diamonds, which have been expertly set to create a dazzling cluster effect. The surrounding diamonds add depth and dimension to the ring, enhancing its overall brilliance and shine.
The ring is a size 9, making it a versatile piece that can be worn comfortably on a variety of finger sizes. It is also a timeless piece that will never go out of style, making it a perfect heirloom to pass down from generation to generation.
This Vintage Victorian diamond cluster ring is truly a one-of-a-kind piece, steeped in history and elegance. It is a perfect choice for anyone who appreciates the beauty and craftsmanship of vintage jewelry, and is looking for a statement piece to add to their collection.
Center Diamond Carat Weight: 1.33
Approximate Color: K
Approximate: VS2
Approximate Surrounding Diamonds: 1.00 carat
Ring Size: 9
18 karat gold 
Vintage Diamond Cluster Ring
One-of-a-kind
Beautiful Designs
We work closely with our clients to ensure their vision is executed with extreme precision and attention to detail.
Find your
Forever Piece
We work with everything from diamonds to semi-precious stones, helping to create beautiful, lasting memories in wearable form.