Your wedding day is one of the most important moments in your life, and having the perfect diamond wedding ring is an essential part of the celebration. Diamond wedding rings for women are more than just exquisite pieces of jewelry; they are enduring symbols of love and commitment. As modern brides embrace their unique style and individuality, the trends in diamond wedding rings are evolving to reflect these preferences. Here, we will explore the hottest trends in diamond wedding rings for women that are sure to captivate the hearts of modern brides. From dazzling solitaires to intricate vintage designs, find the perfect ring that symbolizes your eternal love.
Types of Diamond Wedding Rings for Women
Diamond wedding rings for women are typically crafted with exquisite attention to detail and are available in various styles to suit individual preferences. Here are some popular options:
1. Solitaire Diamond Ring
A timeless and elegant choice, the solitaire diamond ring features a single, dazzling diamond set prominently on a plain or intricately designed band. This classic design places all the focus on the central diamond, allowing its brilliance to shine brilliantly. The simplicity of the solitaire style exudes a sense of purity and unending love, making it a beloved choice for generations.
2. Halo Diamond Ring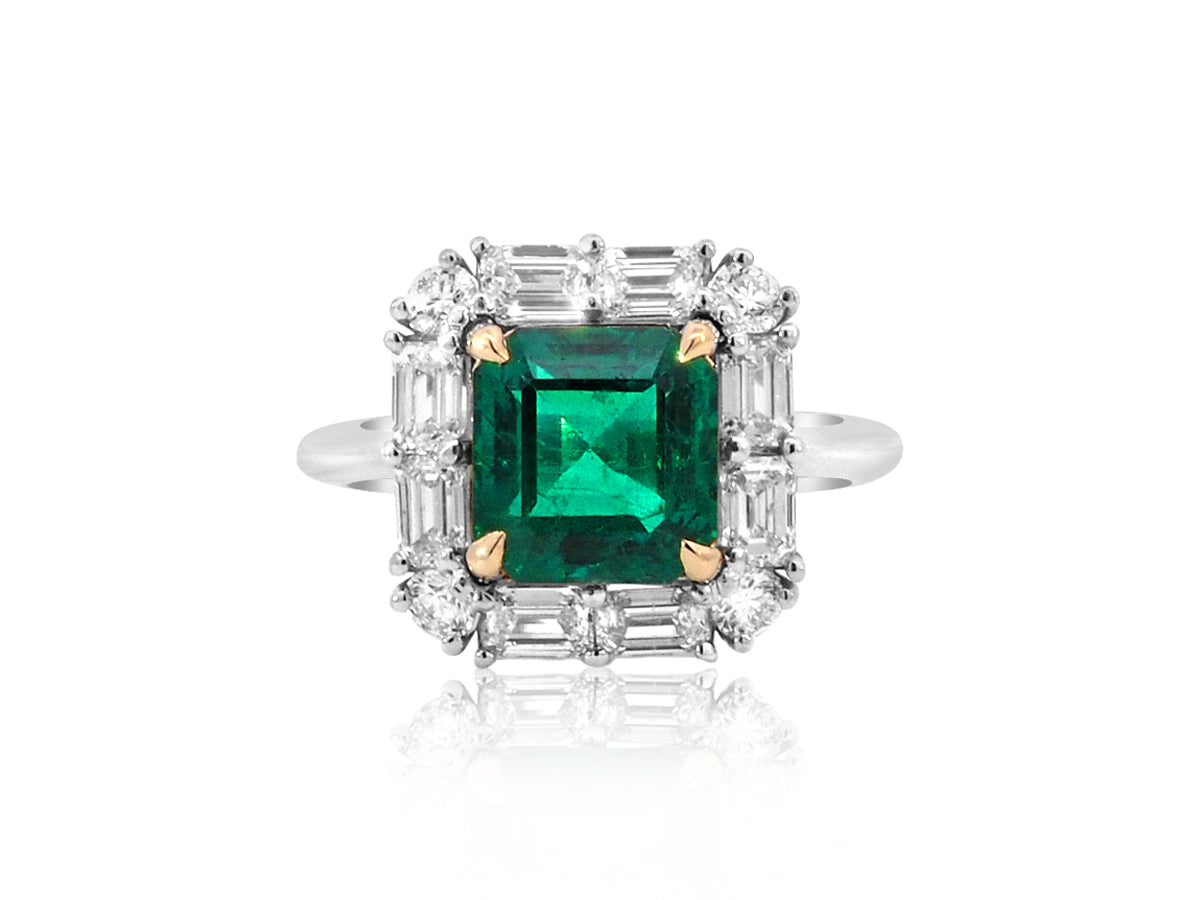 For a ring that exudes opulence and radiance, the halo diamond ring is a splendid choice. In this design, a center diamond is encircled by a halo of smaller diamonds, creating a breathtaking and luminous effect. The halo not only adds to the overall sparkle but also enhances the perceived size of the center stone, making it appear even more extravagant and captivating. It's the ideal choice for those who seek a touch of glamour and luxury in their symbol of love.
3. Three-Stone Diamond Ring
The three-stone diamond ring is a beautiful representation of a couple's journey through time. It symbolizes the past, present, and future of their love story. Three diamonds, usually set in a row, take center stage, with the middle stone typically larger than the two flanking it. This design choice offers a sense of balance and harmony, while the symbolism behind it makes it a meaningful choice for a wedding ring. It's a reminder that love evolves and grows, making every moment precious.
4. Vintage Diamond Ring
Vintage or antique-style diamond rings are for those who appreciate the charm of the past. These rings often feature intricate details such as filigree work, milgrain edges, or engraved designs. They evoke a sense of nostalgia and romanticism, capturing the essence of a bygone era. Choosing a vintage diamond ring is a way to honor the timeless beauty of your love and create a connection to the romantic traditions of the past.
5. Pavé Diamond Ring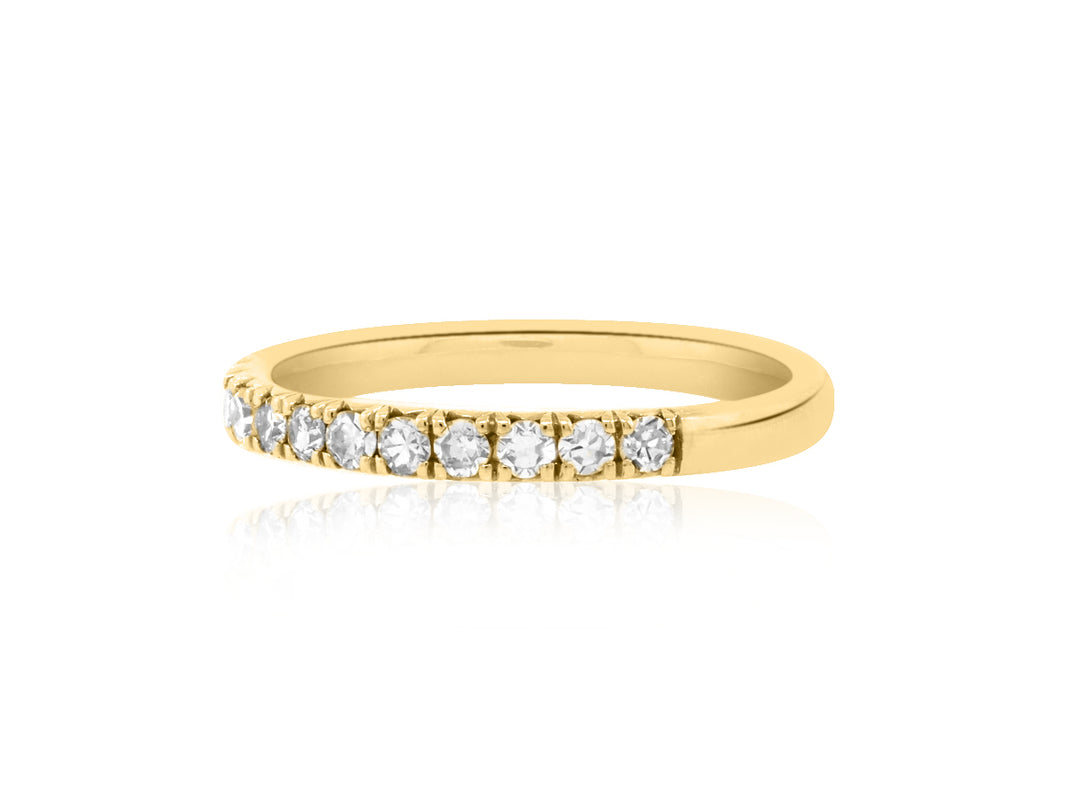 Elegance meets sparkle in the pavé diamond ring. In this setting, tiny diamonds are closely set into the band, creating a continuous shimmering surface that complements the central diamond. The word "pavé" means "paved" in French, and this style indeed resembles a path paved with glistening diamonds. The pavé setting adds a touch of sophistication and extra brilliance to the ring, making it a captivating choice for those who adore a little extra shimmer and shine.
6. Channel-Set Diamond Ring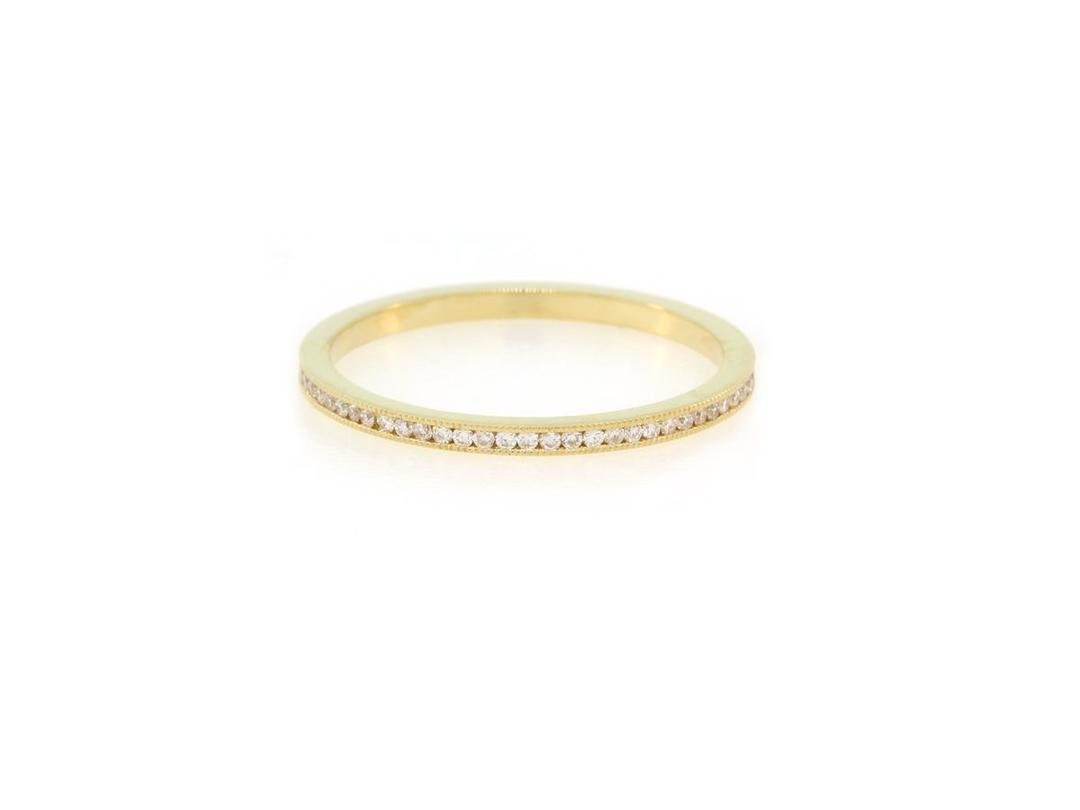 For those who appreciate sleek and modern aesthetics, the channel-set diamond ring offers a seamless and contemporary look. Diamonds are precisely set into a channel along the band, creating a clean and unbroken line of sparkle. This design not only exudes a sense of modernity but also ensures the diamonds are securely held in place, protecting them from daily wear and tear. The channel-set ring is a symbol of enduring love wrapped in a minimalist and stylish package.
7. Princess-Cut Diamond Ring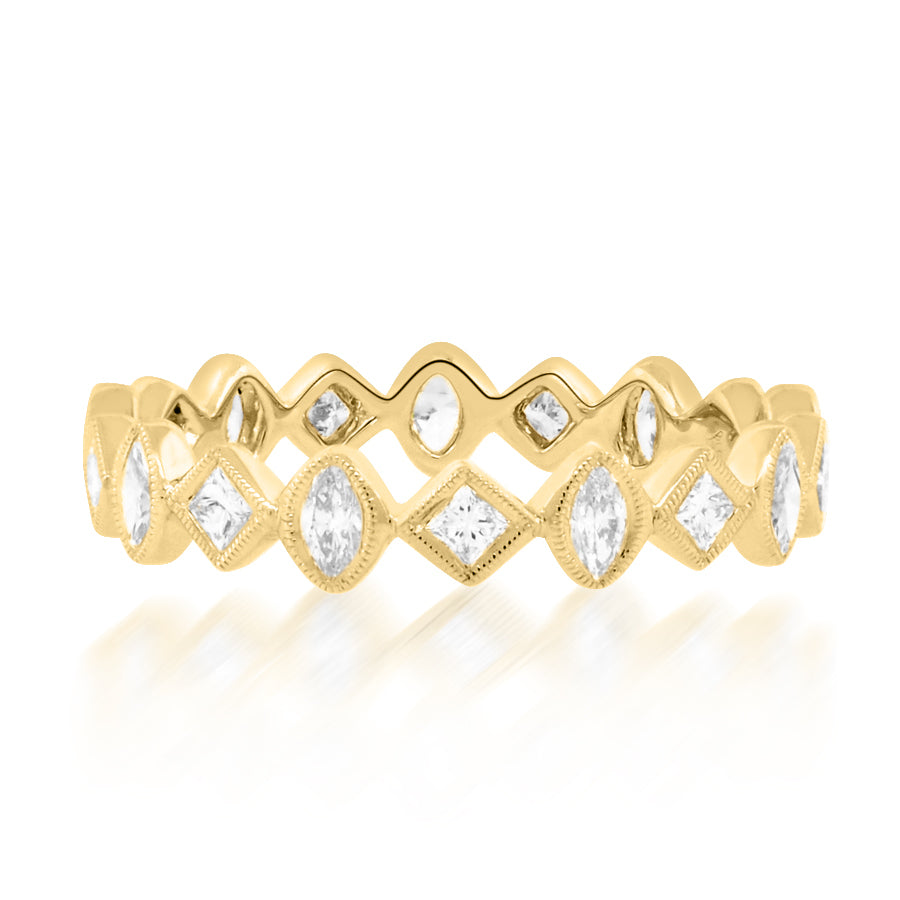 The princess-cut diamond ring is a testament to contemporary elegance. Featuring square or rectangular diamonds with pointed corners, this cut offers a bold and sophisticated appearance. Its clean lines and sharp angles give it a unique and modern edge, making it a popular choice among brides who desire a contemporary yet timeless look. The princess-cut diamond ring is a symbol of a love story that's as sharp and brilliant as the diamond itself.
8. Cushion-Cut Diamond Ring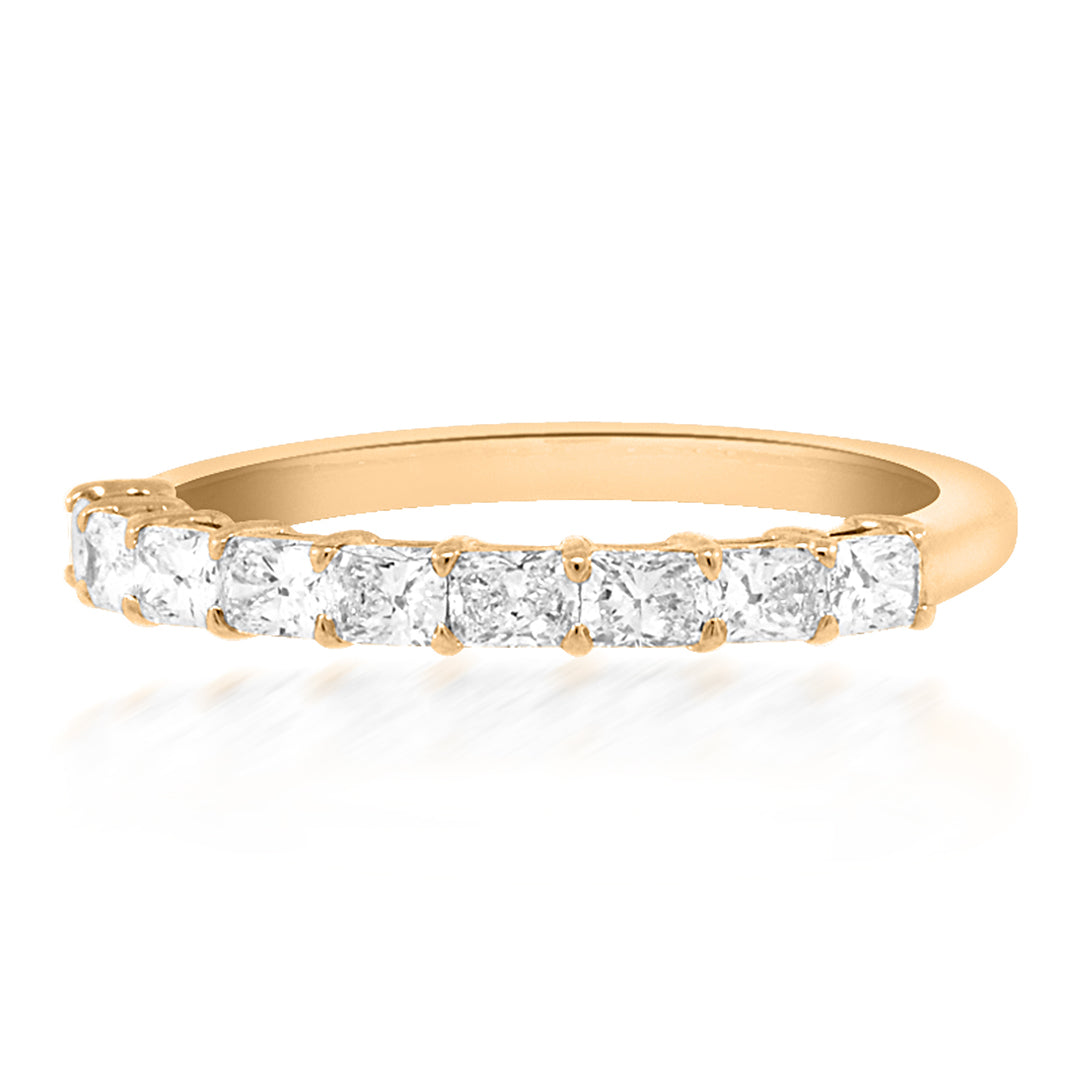 Cushion-cut diamonds, with their square or rectangular shape and rounded corners, evoke a sense of vintage romance. This cut is known for its ability to capture and reflect light, resulting in a mesmerizing play of sparkle and fire. The cushion-cut diamond ring is a perfect choice for those who want a touch of old-world charm and a sense of timelessness in their wedding ring. It's a reminder that love stories can endure through the ages, just like the beauty of this cut.
9. Emerald-Cut Diamond Ring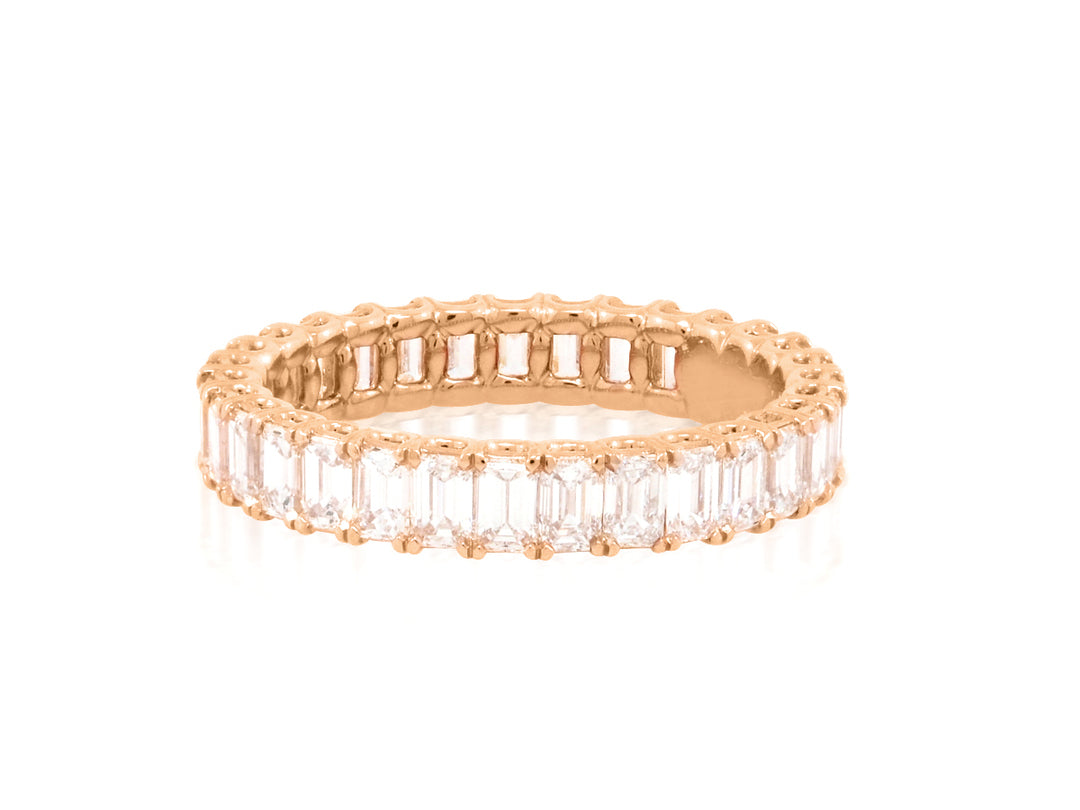 The emerald-cut diamond ring is a symbol of understated elegance and timeless beauty. With its rectangular shape and step-like facets, this cut exudes a sense of sophistication and refinement. It's the choice for those who appreciate a clean and graceful aesthetic, where the diamond's clarity and brilliance take center stage. An emerald-cut diamond ring is not just a piece of jewelry; it's a statement of enduring love that stands the test of time.
10. Oval-Cut Diamond Ring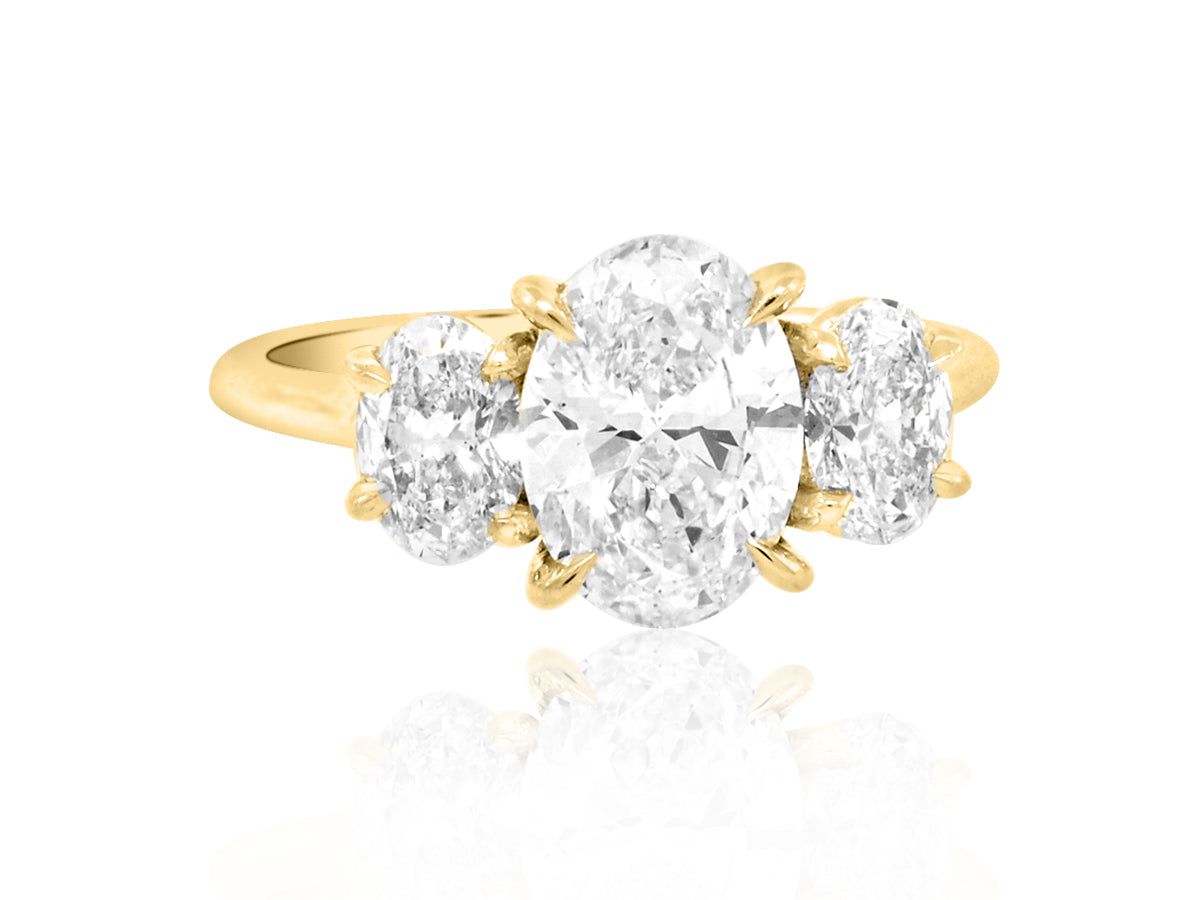 Oval-cut diamonds are celebrated for their elongated shape, which creates a flattering and elongating effect on the finger. This cut combines the brilliance of a round diamond with a unique and slender silhouette, resulting in a captivating and graceful appearance. The oval-cut diamond ring is the embodiment of modern charm and elegance. It's a choice that symbolizes the journey of love, where every moment is meant to be cherished and celebrated. This ring captures the essence of love's fluidity and the promise of a love story that stretches endlessly into the future. 
Selecting the Perfect Diamond Wedding Ring
Selecting the ideal diamond wedding ring involves considering various factors to ensure it aligns with your style, budget, and personal preferences.
Choosing the Right Diamond
The 4 Cs: When purchasing a diamond, consider its Cut, Color, Clarity, and Carat weight. These factors determine the diamond's quality and overall appearance.
Shapes and settings: Explore the various diamond shapes, from classic round to elegant princess and unique marquise. Additionally, consider the setting style, such as solitaire, halo, or vintage, to match your taste.
Selecting the Metal
The metal choice plays a significant role in defining the overall appearance of your diamond wedding ring. White gold, with its contemporary and sleek demeanor, is a popular choice for those who appreciate modern aesthetics. In contrast, yellow gold exudes a timeless warmth and elegance, harking back to traditional jewelry. Platinum, prized for its exceptional durability and lustrous finish, represents the epitome of luxury and endurance. 
Staying Within Budget
Determine a budget range before shopping to guide your selection. Remember, the beauty of a diamond wedding ring lies in its meaning, not just its price tag. Our team offers customization services, allowing you to create a unique ring within your budget.
Why Choose Trabert Goldsmiths for Diamond Wedding Rings for Women?
The following are just a few reasons why Trabert Goldsmiths stands out from the rest:
Unparalleled Craftsmanship and Quality
At Trabert Goldsmiths, our skilled artisans handcraft each diamond wedding ring with precision and attention to detail, ensuring that you receive a masterpiece that stands the test of time. We source only the finest diamonds, guaranteeing that your ring will be a symbol of everlasting love and beauty.
Extensive Selection of Trendsetting Designs
Whether you are a modern bride looking for a dazzling solitaire or a unique shaped diamond ring, Trabert Goldsmiths has an extensive selection of trendsetting designs to suit your style. Our curated collection features a wide range of options that resonate with your personality and love story.
Exceptional Customer Experience
Our dedicated team of jewelry experts is here to guide you every step of the way, from selecting the ideal design to understanding the 4 Cs of diamonds. We pride ourselves on delivering exceptional customer service, making your journey to finding the perfect ring a seamless and delightful process.
Customization Options for Personalized Perfection
At Trabert Goldsmiths, we offer customization services, allowing you to create a truly personalized ring that symbolizes your eternal love. Our expert team will work closely with you to bring your vision to life, ensuring that your ring becomes a cherished heirloom for generations to come.
Celebrate Your Eternal Love with Trabert Goldsmiths Now!
Diamond wedding rings for women encapsulate the essence of love, commitment, and eternity. Their timeless beauty and enduring symbolism make them the perfect choice for couples embarking on the journey of marriage. At Trabert Goldsmiths, we are here to make your special day memorable.
Explore our collection of diamond wedding rings for women and find the perfect ring that reflects your individuality and eternal love here at Trabert Goldsmiths. Whether you are captivated by the brilliance of solitaire, the allure of uniquely shaped diamonds, the romantic nostalgia of vintage designs, the vibrancy of colored diamonds, or the versatility of stacked rings, we have the perfect ring waiting for you. Find your dream diamond wedding ring today.
FAQs
Are there alternatives to traditional diamond wedding rings?
Yes, if diamonds aren't your preference, you can opt for gemstones like sapphires, emeralds, or even moissanite, which offer unique and colorful alternatives.
Can I resize a diamond wedding ring?
Yes, diamond rings can usually be resized by a professional jeweler. However, resizing may affect the setting or design, so consult with an expert.
How can I ensure the authenticity of a diamond?
Ask for a certificate of authenticity from a reputable grading authority like the Gemological Institute of America (GIA) when purchasing a diamond wedding ring.
What is the average cost of a diamond wedding ring?
The cost of a diamond wedding ring varies widely depending on factors like the diamond's quality, carat weight, and the choice of metal. On average, you can expect to invest a few thousand dollars.